A Father's Guide To Fishing With Children
By Bret Preston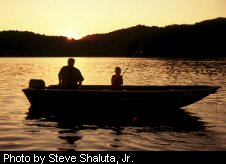 While going through the annual preseason ritual of checking my fishing gear, my youngest daughter asked me when she was going to get her first "fishing boots." "Not hip boots," she said, pointing to a well-worn pair in the corner of the room, "but, you know, chest waders." "Soon," I replied. "This spring we'll look for some boots that will fit you." Looking down at her small feet, I was wondering if we really could find waders that would fit.
She probably remembered the last trip we took before the winter snows came. I was preparing for an afternoon of fishing on the Elk River late last fall when she inquired if she could go. "Sure, let's get your stuff." Her stuff didn't include boots and she was forced to wear some rubber rain boots as we waded the cool water.
What great conversations to have with your child! She wasn't asking to go to the mall or the video arcade; she was asking about going fishing. Not only that, but she was asking to go fishing with me. I realize that someday I won't be the first person that she or her sister think of to pal around with, but I've got a great start with my two daughters. We started fishing as soon as they could hold a fishing rod. I firmly believe that our investments in these family fishing experiences will pay off considerably in the future, strengthening our relationship and introducing them to a lifelong recreational activity.
All of us angling parents like to see our children catch fish. As in any other sport there are some things you can do to enhance a child's first experience. Here is a list of recommendations that may help in their first fishing adventures. It is not by any means a guarantee for a successful fishing trip, but it might provide some guidance especially for parents who are relatively inexperienced anglers.
First Time Fishing Tips
Just Do It!
Introduce children to fishing at a young age. Neither you nor the child actually has to be fishing the first time out. Taking them to a local lake and walking along the shore is a good first step. Just being outside and seeing people enjoying fishing will trigger even more curiosity from an already curious toddler.
Catch fish.
When you do actually go fishing for the first time, plan to go somewhere where there are plenty of easy ways to catch fish. Bluegill and other sunfish are just right for young children. They're usually very cooperative and accessible along the shoreline. It doesn't matter if they're small -- catching fish is the key, not catching big fish.
Be patient.
Make sure you have enough time without distractions to spend with your child. They are going to make mistakes as they learn. Encourage them and laugh with them during this fun time.
Be safe.
Whether on shore, dock, or boat, young children should wear a life jacket. It should fit well and be comfortable. Find a spot that is comfortable and safe. Avoid slippery or steep banks. Be careful allowing young children to handle hooks. It is probably a good idea for an adult to bait hooks. You may want to consider using barbless hooks for beginning anglers. This will minimize the trauma of getting a hook stuck in tender skin. You can purchase barbless hooks or you can pinch down or clip off the barb.
Practice casting with the child before you head out on the water. Practice casting plugs often come with rod and reel combos. These don't have hooks and work great in the backyard. A little practice can make a big difference when it comes time to getting the bait to the fish.
If you believe that your child will continue to enjoy water-related activities, swimming lessons would be a great idea. Hat, sunglasses, insect repellent and sunscreen also will help protect your child.
Use the Right Equipment.
A number of inexpensive spin-cast rod and reel combinations sized to fit young anglers are available. You want to avoid giving a young child an adult-sized rod and reel because it will be difficult for them to use and may end up frustrating and disappointing them on their first fishing trip. The rod and reel should fit a child's hands for easiest use. Shorter rods, four to five feet in length, and smaller reels will be much more comfortable. Smaller, long shank hooks will work great for panfish.
Bobbers are very important. Small, round, red and white bobbers let you know if you are getting a bite and they are fun to watch. A small tackle box is a good way for a child to organize hooks and bobbers. It will encourage a child to keep fishing gear in one place.
Use Live Bait.
An earthworm is probably the number one bait for a child's first fishing experience. They are not too difficult to put on a hook and will catch fish in ponds, lakes and streams. You can dig them up easily in your backyard or garden, or buy them in bait shops. Minnows and mealworms also work well. Artificial lures work great but require some practice to be used effectively.
Go Fish.
After you arrive at a local lake, look for that safe, comfortable spot with room to cast and a gently sloping bank. Sunfish generally can be found along most shorelines. After you bait the hook, place the bobber on the line above the hook. This will vary depending on the water depth that you're fishing, but 18 to 24 inches should work. Help the child to cast. Remember, long casts aren't necessary, although children love to see how far they can cast. Watch the bobber! Let the bobber remain still for awhile, then slowly reel it in a little, and let it rest again for awhile.
When your child catches a fish, she will want to admire it. Now, there are two choices. First, if you have an ice chest, you may want to keep the fish your child catches. Many kids love fried fish dinners and enjoying a meal of freshly caught fish is an important part of a child's understanding of fishing. It is important to keep only the fish you will eat. Second, you may want to release the fish that you catch.
Careful handling for live release is important. Minimize the length of time the fish is out of water. Gently removing the hook while allowing your child to admire the fish is a key to introducing catch-and-release fishing. Parents and other adults should be familiar with West Virginia's fishing regulations, licensing requirements and fish consumption advisories before heading out on that first fishing trip.
Do Not Stay Too Long.
Young children probably should not be expected to fish all day. Perhaps an hour or two is all you both can take that first time out. You may want to have a picnic after the fishing is over. Again, spending time enjoying the outdoors with your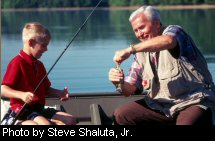 children is the key. A morning or afternoon of fishing with you can mean a lot to your child.
Fishing is a great family activity. Introducing your children to a lifelong sport safely will mean a lot to you and them. If you are not an angling parent or do not have much fishing experience, you may want to ask an adult family member or friend if they would help introduce you and your child to fishing.
West Virginia observes two free fishing days each year during a national celebration of fishing. This year, National Fishing and Boating Week will be celebrated June 1-10. West Virginia's free fishing days will be on June 9 and 10. During these two days resident and nonresident anglers may fish in West Virginia without a fishing license.
Several youth and family fishing events are planned throughout the state. Introductions to fishing are usually held at each event. Also, conservation and civic organizations often participate with local schools in Hooked on Fishing Not on Drugs programs. Fishing clubs may have special youth fishing and conservation activities.
For more information on youth fishing events in West Virginia during National Fishing and Boating Week, contact the DNR at (304) 558-2771 or the National Fishing and Boating Week website at www.nationalfishingandboatingweek.org.
Bret Preston is a fisheries biologist based in Charleston.