Falconry in West Virginia
Falconry is using trained birds of prey for hunting. The sport of falconry is over 4,000 years old, beginning in China or the Middle East. Today, in the United States, falconry has a small but dedicated body of disciples. Enabling rules for falconry were passed in West Virginia in 1998, with periodic revisions to the regulations passed as recently as 2020. The regulations may be viewed HERE*.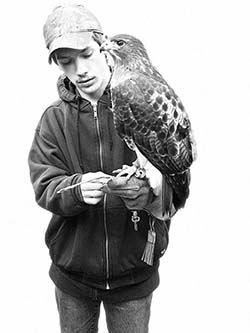 Permit Requirements
A West Virginia falconry permit is required before any person may take, possess, transport, sell, purchase, barter, or offer to sell or transfer, purchase or barter for falconry purposes or practice falconry in the state.
To receive a West Virginia falconry permit, interested applicants must complete and submit an application. An application package with all relevant information may be mailed out to interested parties by contacting the falconry coordinator. For all falconry-related inquiries, or to obtain a falconry packet by mail, please contact:
Cindy Wilmoth
Falconry Coordinator
West Virginia Division of Natural Resources
P.O. Box 67
Elkins, WV 26241

(304) 637-0245
Cynthia.D.Wilmoth@wv.gov
After the application and fee have been submitted, an applicant must pass a supervised examination relative to basic biology, care and handling of raptors, literature, rules, regulations, and other appropriate subject matters. Once passed, an inspection of the mews will be conducted before a permit is issued.
A yearly permit is valid from January 1 to December 31 or each year. Permits are renewable but may not be transferred to any other person. First time applicants, or those whose permits have lapsed by more than 30 days, must pay an initial fee of $250.00. The permit annual renewal feeis $100.00. In addition to a falconry permit, permittees must obtain a valid hunting license and any other applicable stamps or licenses required by law.
Apprentice Class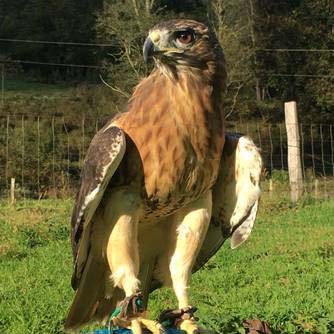 Applicants for the Apprentice Class permit must be at least 12 years old and must have a sponsor that holds a General for a minimum of 2 years or a Master permit. Apprentice permit holders may only posess a wild-caught American Kestrel or Red-Tailed Hawk.
General Class
Applicants for General permits must be at least 16 years old and have at least 2 years of experience at the Apprentice Class level. Applicants must submit a letter of recommendation from their sponsors. General Class permit holders may not possess more than two raptors.
Facilities and Equipment
Personnel from the West Virginia Division of Natural Resources (WVDNR) may inspect raptor housing and other equipment without advance notice during regular business hours, but only in the presence of the permittee. Facilities and equipment must be properly maintained at all times.
WV Falconry Club
Finally, WVDNR strongly encourages all falconry permit holders to also have membership with the West Virginia Falconry Club. More information can be obtained at www.wvfalconry.org.
* These pages are in PDF format.

(You will need Acrobat Reader to view this file)
Photos on this page: Colin Waybright and Rico, the red-tailed hawk.