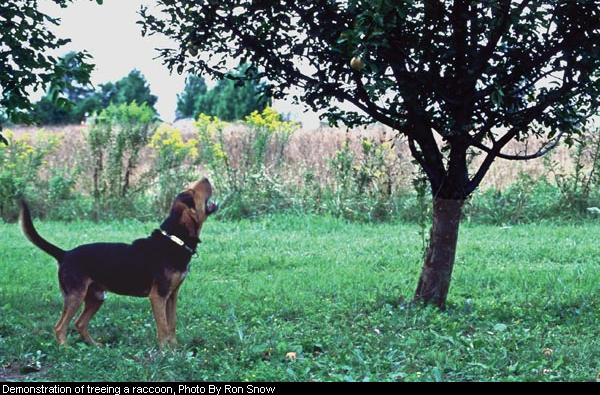 Monitoring Mountain State Raccoons

By Rich Rogers
Since the days when log cabins were shelters of choice and a fair number of Native Americans inhabited the state's as yet unfounded borders, West Virginia has had a love affair with hunting raccoons. Although no longer hunted out of necessity, the tradition of hunting raccoons with dogs, whether they be hounds or curs, is still very much alive in the Mountain State. Today, West Virginia hunters spend more time in pursuit of raccoons than any other furbearer in the state.

With heavy hunting pressure on raccoons being the norm in West Virginia, it has become increasingly important to monitor changes in raccoon population densities to assist biologists in management planning and decision making. Actual raccoon population estimates are difficult to obtain and most states have had to be satisfied with simple indices of relative abundance. Indices can provide an idea of whether populations are increasing or decreasing, but are not estimates of actual numbers of animals.

In the past, fur buyer reports were the main means of monitoring trends in raccoon and other furbearer numbers in West Virginia. These reports were unreliable due to the effects of the fluctuating nature of the fur market on both sale and harvest of raccoon pelts. It is especially difficult to extract useful information from these reports during periods of low or changing fur prices.

In 1992, the West Virginia Division of Natural Resources in cooperation with the West Virginia Coon Hunters Association initiated a survey to monitor raccoon population trends using scorecard information obtained from competitive coonhound field trials. Field trials, or "nite hunts" as they are known by competition hunters, are held year-round in most counties of the state. These hunts are sanctioned by national organizations such as the United Kennel Club and the Professional Kennel Club. Clubs holding hunts participate in the survey on a voluntary basis.

Hunts involve a detailed scoring system based on trail striking, tracking, and treeing abilities of coonhounds. The hunts are strictly timed at one or two hours and numbers of raccoons seen are recorded on scorecards. Information gathered for a survey year is averaged to indicate the number of raccoons per two hours of hunting time. This measure of hunting success is calculated for different socio-ecological regions of West Virginia. Two hours is used since this is by far the most common type of hunt held by the clubs.

Four regions of West Virginia were delineated based on past habitat studies, ecological zones and observations of biologists on raccoon hunter densities and hunting pressure on the raccoon resource:

• Region 1. Northern panhandle and northern hills -- contains fair raccoon habitat and moderate hunter density.
• Region 2. Southern coal fields and surrounding areas -- contains poor raccoon habitat and highest density of raccoon hunters in West Virginia.
• Region 3. Remote, high mountain region -- contains poor to fair raccoon habitat with low to moderate hunter density.
• Region 4. Eastern panhandle -- contains fair to good raccoon habitat with low to moderate hunter density.

Since its inception in 1992, an average of 27 coon clubs have participated in the survey each year. This represents 65 percent of all clubs present in any given year. Results were obtained from an average of 85 hunts per year statewide representing 43 percent of all sanctioned hunts listed. A total of 10,721 hours from more than 1,000 hunts have been surveyed to date.

Twelve years of data indicate that long-term trends in raccoon numbers are stable to slightly increasing. Hunting success statewide has ranged from 1.4 to 2 raccoons seen per 2 hours of hunting time and has averaged 1.66. Slight increases in hunting success are noted for Regions 2, 3, and 4. These increases are most probably due to depressed fur markets and concurrent lower harvests of raccoons leaving more raccoons in the woods. Of course, this also assumes that hunting success as depicted by the field trial survey accurately reflects raccoon densities.

Actual hunting success has compared favorably well with predicted hunting success for each region with the highest success being found in Region 1. The big exception has been Region 4 – the eastern panhandle. Containing West Virginia's best raccoon habitat, this region shows consistently low hunting success. This may be partly explained by the presence of rabies in the area which may be keeping raccoon densities low. It was predicted that hunting success would be low, but not as low as indicated by the survey. Prior to the initial rabies outbreak in the late 1970s, hunters reported treeing high numbers of raccoons in this region.

Also of note is Region 2, in southern West Virginia which has yielded low hunting success from year to year. Concurrently, it has actually shown the steadiest hunting success in the 12 years since the start of the survey with no dramatic fluctuations. This region has traditionally been considered our poorest raccoon habitat and contains the greatest number of raccoon hunters of all four regions. Overharvest and illegal killing have been historic problems in Region 2. Low fur prices are probably helping raccoon numbers to rebound in this region more than any other.

Hunters in Region 2 are reminded to refrain from illegally stocking raccoons as an answer to the problem of low numbers of raccoons. Moving diseased individuals into the area is a very real possibility. Additionally, if stocking was the answer to raccoon density problems in southern West Virginia, this area should have the best raccoon hunting in the state. It is very probable that more raccoons have been stocked by hunters in this region than anywhere else in West Virginia with very little long-term benefit. The answer lies in protecting what is already there to allow native raccoons to fill available habitat.

One problem associated with the survey is that hunting success may be somewhat inflated by the high use of "feeder buckets" or bait stations in areas where hunts are conducted. A recent survey of West Virginia coon hunters indicated that 61 percent of competition hunters surveyed hunted from baited sites to increase chances of contacting raccoons during field trials. As long as use of bait stations is consistent throughout all four survey regions, differences in hunting success between regions can still be considered valid. Hunters have been repeatedly cautioned that baiting increases the risk of spreading diseases such as distemper and rabies in raccoon populations and should be discontinued.

In 2001, a Raccoon Pleasure Hunter Survey was added to supplement data obtained from the Raccoon Field Trial Survey. This survey uses noncompetitive hunt information and includes data gathered during the kill season, thus yielding age and sex data as well. Unfortunately, very little of this data has been gathered to date. More volunteers are needed. This information will hopefully add to the value of the survey as a tool in making management decisions.

Managing raccoon populations, like that of any other wildlife species, should be based on facts as supported by good science. The Raccoon Field Trial Survey represents a solid step in this direction. Raccoon hunting clubs are to be applauded for taking the time to participate in this survey to help insure the future of their sport and the health of the raccoon resource.

Any clubs or individual wishing to participate in either of these surveys should contact:
Rich Rogers, WVDNR
1 Depot St.
Romney, WV 26757
(304)822-3551
Rich Rogers is a wildlife biologist stationed in Romney.